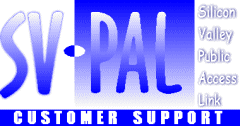 [Home Page] [About] [Subscriber] [Services] [Support] [Volunteer]
---
Connecting to SVPAL -- PPP accounts -- Windows NT

These are the instructions provided by one of SV-PAL's users, Jeff:


OK, On Windows NT you must first install Dial-up-Networking and your modem. Once that's done, you need to add a phonebook entry for SVPAL. Double-click on my computer and then double-click on dial-up networking. Select New. Under the Basic tab, enter the name to call the entry and the phone number for SVPAL PPP. Under the server tab, Select Dial-up-server type of PPP, Windows NT, Windows 95 Plus, Internet. Check TCP/IP but no others under network protocols. Check the boxes Enable software compression and Enable PPP LCP extensions.

Now select TCP/IP settings. In the top part of the screen check the box Server assigned IP address. In the bottom part of the screen select the box Specify name server addresses. In the Primary DNS field enter 209.68.147.66. Leave the other ip address fields blank. Check the boxes Use IP header compression and Use default gateway on remote network.

Under the script tab, select Pop up a terminal window. Under the security tab select Accept any authentication including clear text.

Click OK all the way out to save. Now you can dial. When you connect you will be prompted for username and password. Enter your username and svpal password. You will see a bunch of unprintable characters. At this point click "DONE" and you will be connected.
Thanks, Jeff!
---
SV-PAL Home Page
http://www.svpal.org/support/
support@svpal.org
---
Copyright © 2001-2004 Silicon Valley Public Access Link